Sowing the Seeds of Faith in the Digital World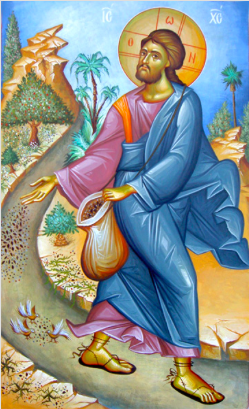 Jesus the Sower - Luke 8:5-8
Icon by the hand of Athanasios Clark
"A sower went out to sow seed. And as he sowed, some seed fell on the path and was trampled, and the birds of the sky ate it up. Some seed fell on rocky ground, and when it grew, it withered for lack of moisture. Some seed fell among the thorns, and the thorns grew with it and chocked it. And some seed fell on good soil, and when it grew, it produced fruit a hundredfold." After saying this, he called out, "Whoever has ears to hear ought to hear." [Luke 8:5-8]
I use the digital media in my ministry a lot, probably spending at least two hours in total each day. I normally spend an hour each morning posting on Facebook, Twitter, and my blog. Then I monitor what is happening in terms of responses or requests. Why do I do this? I am sowing "seeds," the seeds of the Catholic faith.
There are a lot of angry people out there who love to "trample the seed" with vitriol and hateful comments. Other times my posts "fall on rocky ground" where it is ignored or trashed. Sometimes it falls "among the thorns" of religious debate and gets "choked."
I don't get a lot of comments on my blog, mainly because I have not been too active with it as of late, but every once in a while I get a good comment and I post it for my readers to see. I remember one in particular from December of last year commenting upon my post, "Concerning the presence of the minister on twitter:"
I know I have enjoyed your tweets. When you started, my husband would ask over morning coffee, "what is the bishop tweeting today?" Last Easter, he became a Catholic. So I will give you credit for starting a new phase in our lives.
So, there you go. "And some seed fell on good soil, and when it grew, and it produced fruit."
+Bishop Chris Coyne
Auxiliary bishop of the Roman Catholic Archdiocese of Indianapolis