Corporate Responsibility in the Age of Pornified Culture
A Presentation by Steve Largent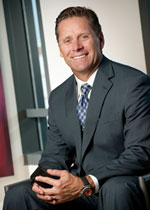 Steve Largent has served as President and CEO of CTIA-The Wireless Association® and President of The Wireless Foundation since November 2003. Previously, Mr. Largent represented Oklahoma's First Congressional District in the U.S. House of Representatives from 1994 to 2001. Mr. Largent was the Vice-Chairman of the Energy and Air Quality Subcommittee and also served on the Telecommunications Subcommittee, the Oversight and Investigations Subcommittee, and the Environment and Hazardous Materials Subcommittee. His seven-year voting record reflects consistent support for lower taxes, less regulation and strong free markets.
Mr. Largent has also managed his own advertising & marketing consulting firm, where he worked with numerous Fortune 500 companies around the country. In addition, he served as Mid-West Chapter Executive Director of the Wheelchair Foundation.
Mr. Largent was a record setting wide receiver with the Seattle Seahawks for 14 years, setting six career records and participating in seven Pro Bowls. He was inducted into the Pro Football Hall of Fame in 1995 and the World Sports Humanitarian Hall of Fame in 2006.