Apple's iOS 7 Brings Adult Content Filtering to the iPhone, iPad, and iPod Touch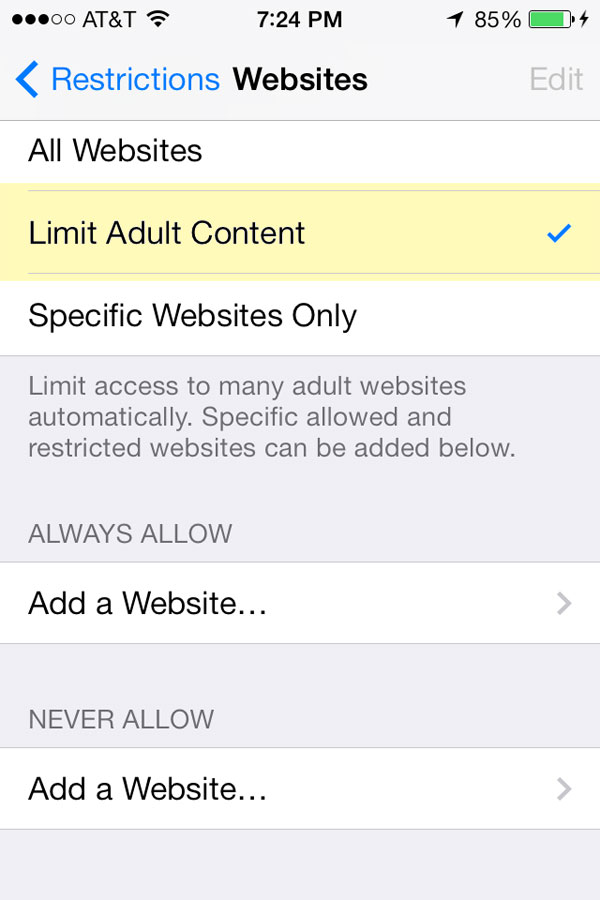 For the first time, Apple's new mobile operating system, iOS 7, gives parents the ability to filter adult web site content on their children's mobile Apple devices. Apple's mobile operating system, which runs the iPhone, iPad, and iPod Touch, has always provided parents with very basic parental control capabilities. Those capabilities, however, were limited to simply turning the device's Safari web browser on or off. In other words, you could either have Internet access or you couldn't.
The new iOS upgrade makes the mobile operating system work a bit more like it's desktop sibling. Parents can choose to allow unrestricted access to the all web sites on the Internet, check off a setting that will limit adult content, or only allow the mobile device to access specific web sites that parents allow.
Parents wishing to limit adult content or restrict access only to specific sites will find the new content filtering option in Settings > General > Restrictions > Websites. There, parents can chose which option they would like to chose. Parents should also chose a password for the "Restrictions" section that only they know and their children are not privy to.
At any time, parents can also explicitly "never allow" or "always allow" access to particular sites. If the parental controls filter makes a mistake, you can also override the setting and allow individual web sites at any time.
There's no question that the ability to filter potentially pornographic and explicit adult content is a welcome addition to Apple's mobile offerings. Parents, however, must be proactive in enabling the restrictions on the device.