New Family Protector app for iPhone and iPad lets Children experience age-appropriate content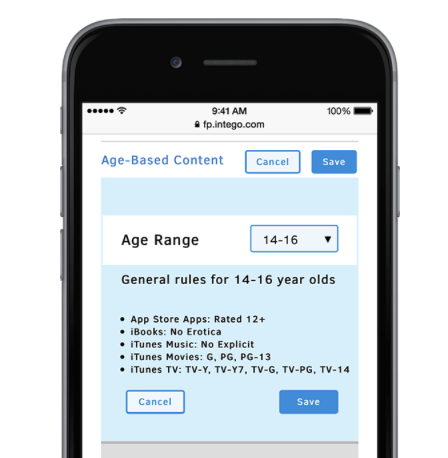 Intego, best known for their anti-virus and computer security products has just announced a new product to help families protect and secure iPhones and iPads running iOS version 8 or later. The product, called Family Protector, gives parents control of iOS mobile devices and offers a number of interesting features that may be of particular interest to parents.
Parents can let kids know when it's time to come to the table and restrict the device with just a few clicks
Restrictions can be enabled during bedtime hours to eliminate distractions or unwanted contact with your child at night
If your child is unresponsive to your calls or texts, you can block access to third party apps or web browsing and send your child to a special lock screen with a message to call you back.
Schedule screen time breaks
Enable age-appropriate safe web browsing
Limit access to age appropriate music, movies, and books
Get notifications if your child tries to access a blocked web site or app, tries to install a forbidden app, or removes Family Protector from their device.
Block app and in-app purchases
Block (blacklist) or allow (whitelist) web sites
Block access to their device's camera or FaceTime messaging
Know when they are online
Control which apps are on their device
Use age-based-rules to setup restrictions
For the parent who is looking for an all-in-one easy-to-use solution that will allow you to manage your children's digital devices from your own phone or iPad, the Intego Family Protector may be worth a look. Intego says that there is a 14-day free trial of the product. After the $14 day free trial, the service costs $5/month and families can cancel at any time. Intego has an extensive FAQ that should answer most questions.